Organizing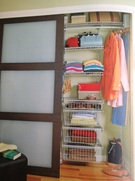 From closets and kitchens, to bedrooms, craft rooms, home offices,
attics and garages; you name it, I'll help you organize - with style.
Is paper covering every flat surface in your home? Let's set up a
filing system you can maintain. Moms, are the kids toys everywhere?
It's never too early to teach the little ones simple organizing skills.


---
Home Staging

Is your house on the market and not selling? Maybe there are a few things
you've overlooked that might be holding the sale back. Home Staging is the art
of decorating a home to sell quickly and for top dollar. By decluttering,
arranging furniture, hanging art, and accessorizing along with suggestions for
new wall colors and minor repairs, a staged home will create a living space
where the buyer can imagine themselves living.
---
Downsizing


Empty nester looking to move to a smaller home?
Senior looking to move to a retirement community?

Let Neat & Tidy Spaces help you with the space planning and logistics of the
move.


---
Moving


Whether you're moving across town or to another state,
an organizer can help you pack and keep things in order.
Sorting and paring down prior to a move can save you
money on your moving costs. Make your new house feel
like home from the get-go!
---